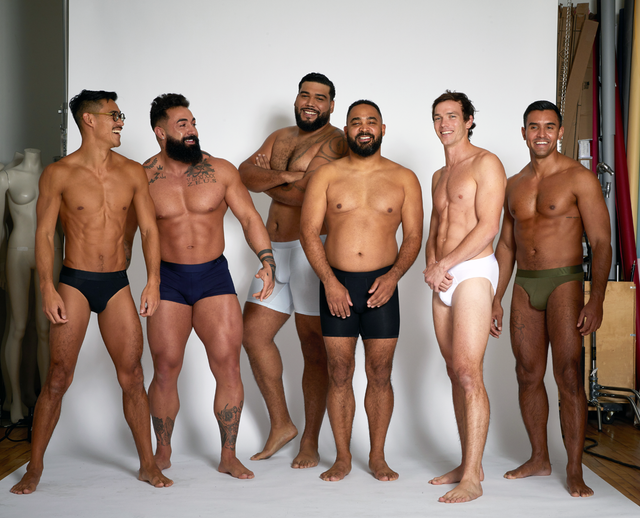 Be Comfortable
WE ASKED YOU GUYS WHAT BOTHERS YOU ABOUT YOUR UNDERWEAR. YOU DIDN'T HOLD BACK. ALPHX HAS SOLUTIONS. HERE ARE THE DEETS.
ALPHX Everyday Comfort Collection:
•56% Premium Jersey Cotton. 38% Modal. 6% Elastane
• Ethically made in Sri Lanka
You told us you wanted to be comfortable, so here comes the technical part. First, we wanted a material that was soft to the touch, so we combined lightweight, breathable, natural cotton with Modal (a fabric made from beech tree pulp). Trust us; it's soft). Then we throw in just the right amount of elastane for strength, stretch, and recovery. The elastane (better known by its brand name Spandex) allows our underwear to move with you without stretching out or riding up. Customers tell us that our underwear feels like they are wearing nothing at all. How's that for comfort?
Our 1.5-inch waistband is slightly curved to follow your natural waistline, eliminating uncomfortable pinching and rolling. The trunk and boxer brief have a 3" saddle between the front and back panels, providing extra support and more space where you need it. Our back rise is slightly longer than the front and has no seams, which prevents wedgies and keeps the "creeps" away. We don't like wedgies or creeps.
And finally, our tonal waistband is subtly embossed with our signature ALPHX logo so as not to be obnoxious. Look, we love our logo, but this is about you, so we went with understated but powerful, like you.
Be Subtle
Our Everyday Comfort Trunks and Boxer Briefs feature stay-put legs engineered to move with you without stretching out or riding up. Plus, we finish the legs with a low-profile, turn-back hem, making them virtually invisible under trousers. No more awkward underwear lines showing through your pants. Keep 'em guessing. We enjoy a little mystery.
Be Functional
Our Everyday Comfort Union Pant features our signature 120* Fly. Two dyed to match buttons are fastened at a 120 degree angle for ease of function and a modern aesthetic. This innovative design provides more room, making it easier to use, and secure when closed. Wear the Alphx Union Pant as a lightweight, breathable base layer for warmth without overheating, or lounge the day and night away in them. However you wear them, the 120* Fly detail creates a flattering profile and an updated look.
Be Responsible
WE BELIEVE IN DOING OUR PART FOR THE ENVIRONMENT
Being responsible doesn't mean sacrificing style or comfort. It means taking a thoughtful approach to the things you do and the products you buy. That's why we make our ALPHX underwear from high-quality materials like all-natural cotton that are renewable where possible. And that's why we limit our use of packaging to keep waste to a minimum. For example, our ALPHX underwear comes in a biodegradable pouch that we ship to you in a biodegradable mailer. That's less space in your trash, less space in a landfill, and less harm to Mother Earth.
We also take a thoughtful approach to the way we treat our workers. For example, we partner with WRAP Certified MAS industries, a Sri Lankan factory that shares our commitment to making ethically produced garments. WRAP is a global, independent organization that certifies apparel manufacturers who adhere to ethical and responsible business standards. Certification means a company obeys the laws of its country, treats workers with dignity and respect, and is conscious of its impact on the environment. WRAP Certification means that you can feel good about buying our products.
Be Unlabeled
Hate scratchy underwear labels? Introducing the next generation of tagless underwear. Ours are designed for you to rip off cleanly, leaving no uncomfortable tag residue behind. We even print a positive affirmation on one of the tags for a bit of motivation. Read it, take in the wisdom, then tear it off. We love starting our day with a bit of inspiration.  
Be Supported
Looking for a comfortable, supportive pouch that won't slip or shift around? We created a contoured pouch that goes beyond comfort. It starts out shallow and gradually deepens before becoming shallow again at the bottom. We double-line the pouch with lightweight, breathable fabric for added support and plenty of ventilation, so you stay cool and comfortable all day long. No one wants a sweaty pouch.
Talk about your brand
Be Tidy
We love valuable details, especially unexpected ones, so we included a nifty locker loop on the outer right hip of our underwear. The loop lies flat against your body when worn, but when not in use, you can use the loop to hang your ALPHX neatly in your gym locker or on a door hook. So take that, Marie Kondo!